2023 Ultimate Orienteer #2 – Big Finn Hill (Score-O)
---
---
Spend April Fool's Day at Big Finn Hill Park finding controls!
An event with a mass start, each control on a Score-O course is worth a specified number of points. Generally, the more difficult controls (because of their navigational difficulty or distance from the start) are worth more points than easier controls. Competitors collect as many points as possible within a specified time limit. Point penalties are assessed for those returning after the time limit.
Careful course planning, keeping your eye on the clock, and staying located are all keys to success in Score-O. Even experts may have trouble visiting every control in the given time limit. Pick a route that best uses your time: maybe that means maximizing points in a short distance, or maybe you want to explore a new area and visit some controls along the way; it's up to you! There will be separate maps for Short (60 minutes) and Long (75 minutes).
COURSES
Course designer(s): Anique Johnson, Keely Kinsman
Final categories
Short – 60 minutes, 18 controls, 1010 points total
Long – 75 minutes, 41 controls, 2270 points total
Late penalty
You will lose 10 points for every minute (or portion thereof) after the time limit for your category.
Score-O Course/Class Assignments for Ultimate points
If you want to earn Ultimate points, check the table below to see which category you should sign up for.
For example, if you're a female 16 or under, your Ultimate age class is F-16 and, for this event, is assigned to the Short course. If you are up for a more challenging course, you can also earn points in F-18 or F-21+ on the Long course. Just keep in mind that other courses are more difficult, both navigationally and physically, and that you'll be earning points only in the class you sign up for.
| | | |
| --- | --- | --- |
| Age Class | Short (60 minutes) | Long (75 minutes) |
| F-16, M-16 | | |
| F-18, M-18 | | |
| F-20, M-20 | | |
| F-21+, M-21+ | | |
| F50+, M50+ | | |
| F70+, M70+ | | |
COURSE NOTES
High-capacity epunch
If you are doing the Long course and think you will visit more than 29 (of 41) controls, you will need a high-capacity epunch. If your epunch number falls within the following ranges, you must borrow a high-capacity card from registration. You will not be charged.
Low-capacity epunch number ranges
1-499.999
2.000.000-2.999.999
Courses
Big Finn Hill park is an inviting venue for all levels of orienteers. There are athletic facilities, paved roads, and wide trails that help the beginner navigate accurately. For the more advanced orienteers, areas with dense trail networks allow ample opportunity to practice route choice skills. The terrain is relatively flat with a few steep hills. There will be plenty of controls set across the park to challenge your skills in balancing time with navigation.
Juanita Drive crossing points
For those opting to venture to the Western side of the park, there are only two points at which you are allowed to cross Juanita Drive. Both are marked on the map with a mandatory crossing symbol on the map ) ( and have a crosswalk in the real world.
The southerly crosswalk has an on-demand crossing light, which you must activate before crossing. Do not enter the roadway until any oncoming cars are fully stopped, as this crosswalk is rarely used and drivers tend to fail to yield to pedestrians and cyclists.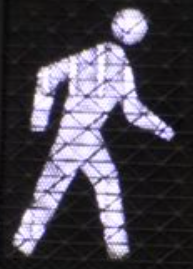 The northerly crosswalk is at a road intersection and is controlled by a traffic light. It does NOT have an on-demand crossing light, so you will have to wait for the little man before crossing.
Out of Bounds
While you are only allowed to cross Juanita Drive in the two above-mentioned locations, you ARE allowed to run on the shoulder.
Storm damage
Storm damage and debris from this winter may hinder visibility of distinguished trails.  Expect to encounter blackberries when choosing off trail routes. The park is finalizing construction at the entrance to the ball fields, including planting new gardens. Course designers have placed controls in locations where access through this area can be reached by other routes, so please avoid entering flagged areas. This area is not marked as out of bounds on the map as the boundary has changed with every visit we made to the park.
Anique Johnson
Keely Kinsman
SCHEDULE
Pre-registration only!
We will NOT have day-of-race registration, so make sure you register before the deadline (March 30 at 9pm).
8:45-9:45 – Check-in
10:00 – map handout, 75 min
10:05 – course planning, 75 min
10:10 – mass start, 75 min
10:15 – map handout, 60 min
10:20 – course planning, 60 min
10:25 – mass start, 60 min
noon – Courses close*
*Wear a watch to ensure that you return to the finish by course closure time, even if you have to abandon your course to do so. Those returning after course closure will be disqualified and will make the volunteer staff very grumpy.
PRICES
PRE-REGISTRATION PRICES
$22 base price
– subtract $5 for CascadeOC members
– subtract $5 for using your own e-punch
Participating as a group? Just $5 for each additional adult (16+) group
member, no cost for additional minors.
What's an e-punch?
An e-punch records your race. At each control, you'll dip the e-punch into an electronic box, which will beep and flash as confirmation. After you finish, you'll download the e-punch at the download tent and get a receipt that show which controls you visited and how long you took between each; these are your "splits."
Part of the fun of orienteering is comparing your splits with people who completed the same course, and discussing the routes you took!
SIGN UP
Volunteers make these events happen! You can volunteer and participate on the same day, plus earn volunteer points to earn a free meet.
PARKING
Parking is available at the park.
Overflow parking
If the lot in the park is full, more parking is available near the baseball fields. Please note that you may have to drive around and enter from the east side.
THE MAP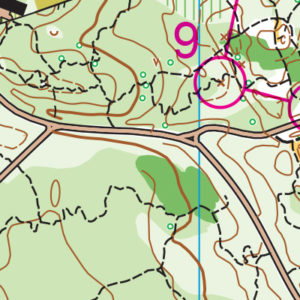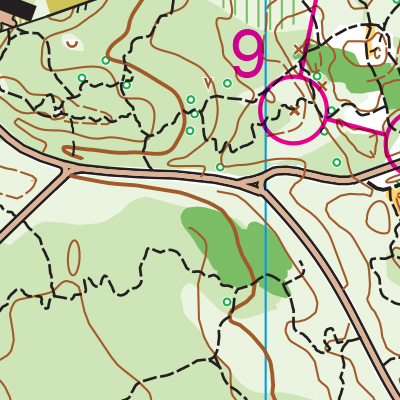 There are delights here for beginners and advanced orienteers alike. Buildings, ballfields, and trails provide a great beginner and intermediate area, while the forest is a giant knot of trails that can terrorize any advanced orienteer who becomes lazy about reading contours or using their compass to check the direction of the trail.
Read more on the map page
SAFETY & ETIQUETTE
Return to the Finish
All participants MUST return to the finish and download their e-punch or turn in their punch card.
Even if you have not finished your course, you must still return to the the finish and confirm with event staff that you have returned safely.
Out of Bounds
Some areas may be marked out of bounds. It is imperative to respect these boundaries to maintain our relationships with land managers. Participants MUST NOT go out of bounds. Any participant caught going out of bounds will be disqualified.
Course Closure
All participants MUST return to the finish by course closure time. If a participant does not return by course closure, event volunteers will begin coordinating a search party.
If you need a long time on the course, start as early in the start window as possible, wear a watch, and be prepared to cut your course short to make it back by the course closure time.
Whistle
All participants MUST carry a whistle on the course. Complimentary whistles are available at the start tent (please only take one).
If you are injured on the course and need assistance, blow three long blasts to call for help.
If you hear a call for help, abandon your course to find the person in distress.
Voices
Part of the fun and fairness of orienteering is navigating your own course, so please be polite when you find a checkpoint and don't holler that you've found it.