Mini-Winter League Championships – Shorecrest HS/Hamlin Park/South Woods Park
---
See site map here.
COVID Waiver here.
Group Waiver here.
Start list here.
Control Description Sheets here.
Map update: ALL Maps will be printed on 11×17 paper single sided with Magnetic North parallel to the edge of the paper.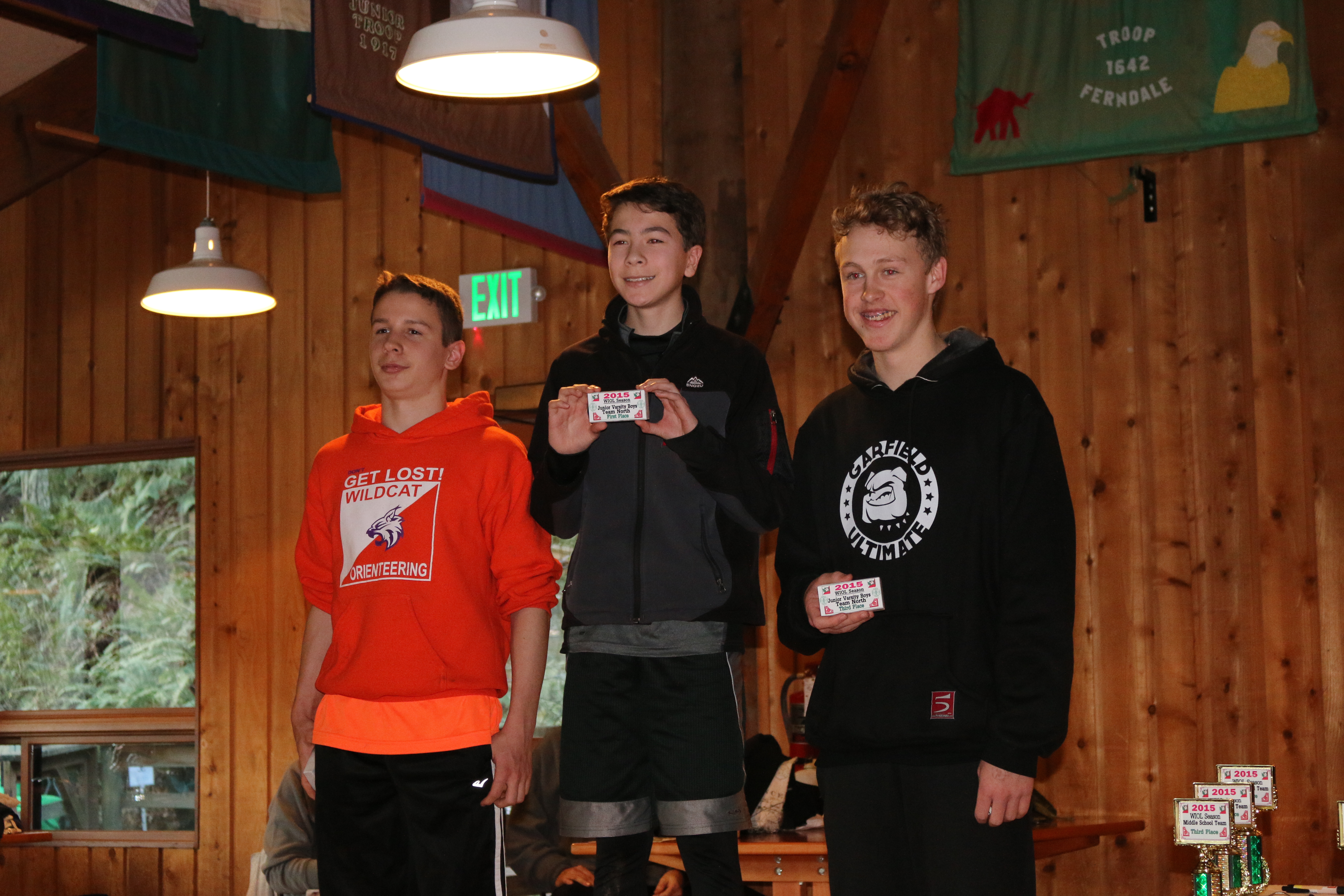 We are addng a Championship race to the series. So this event will be the the sixth and final meet in the 2021 Mini-Winter League Series. For all the information you need on how this series will run, see the series page.
Rules for all Mini-Winter League Meets:
In order to get permits, we must impose the following rules:
200 participants max.
No team tents.
Runners will be asked to leave the venue upon completion of their course.
No comparing route choices, standing in groups, or staying around after you run. Use route-gadget and other virtual tools to compare your results after the event.
Facial coverings required for all coaches, volunteers, and athletes at all times.
Maintain 6' of distance at all times, when not running a course.
Read all the special rules for this series here.
COURSES
Course designer(s): Dave Tallent
| | | | |
| --- | --- | --- | --- |
| Course | Controls | Length | Climb |
| Elementary/Beginner | 15 | 1.4 km | 15 m |
| Middle School | 16 | 1.8 km | 20 m |
| JV Rookie/Advanced Beginner | 16 | 1.8 km | 20 m |
| JV Girls/Intermediate | 17 | 2.7 km | 60 m |
| JV Boys | 17 | 2.7 km | 60 m |
| Varsity | 20 | 3.7 km | 130 m |
| Short Advanced | 20 | 3.7 km | 130 m |
| Intercollegiate/Long Advanced | 24 | 4.4 km | 150 m |
How are courses measured?
Courses are measured as the crow flies, in a direct line from control to control. Unless you have wings, you will travel farther than this distance! Courses are measured in kilometers, so a good rule of thumb is to simply round up to miles to estimate how far you will go. So in a 5 kilometer race, you'll likely travel up to 5 miles.
COURSE NOTES
It is important to note that the Hamlin Park map has been drawn to Sprint Standard, which has a different symbol set, especially with respect to trail designation, and is drawn to 1:4000 scale with 5-meter contours.
ALL Maps will be printed on 11×17 paper single sided with Magnetic North parallel to the edge of the paper.
In this current update I remapped to reflect the openness of the forest and the proliferation of social trails. Trails have four designations: 2m+ (6+ feet) wide brown, 1.4m brown (4ft), a black dashed line for smaller but well-defined single track and a thin black line for social trails, which are nevertheless very visible. Beginners/Elementary and Adv beginners/middle school/Rookies will stay entirely on the Shorecrest Campus and in the South Park. All other courses will venture into Hamlin Park.
All courses – safety bearing: Any direction (N, S  and E in South Park and all directions in Hamlin) will take one to a road. In South Park, a road is with a 100m. In Hamlin 200+m
Courses are very fast and for the advanced courses, hilly, offering cross-country as viable route choices. Thumbing along, and precisely keeping track of one's location will be especially important. Stop and go technique will not win the day; navigation at full speed will.  Control locations in Hamlin are point features only.
SCHEDULE
9:30 am – Check in opens
10:00 am – Start opens
1:15pm – Start closes
2:30 pm – Course closes
Why is there a start window?
This event uses an interval start, which means that participants are started in waves instead of all at once. When you arrive at the start tent, find the chute for your course and follow the start volunteer's instructions.
PRICES
PRE-REGISTRATION PRICES
$13 for non-members (race only)
$8 for CascadeOC members (race only)
$5 additional for e-punch rental
What's an e-punch?
An e-punch records your race. At each control, you'll dip the e-punch into an electronic box, which will beep and flash as confirmation. After you finish, you'll download the e-punch at the download tent and get a receipt that show which controls you visited and how long you took between each; these are your "splits."
Part of the fun of orienteering is comparing your splits with people who completed the same course, and discussing the routes you took!
SIGN UP
Public registration is open for limited spots and close on Wednesday May 5th at 9pm or when all spots are full.
Volunteers make these events happen! You can volunteer and participate on the same day, plus earn volunteer points to earn a free meet.
PARKING
Please Park at Shorecrest High School.  Parking is free.  See site map here.
THE MAP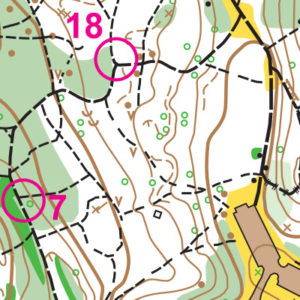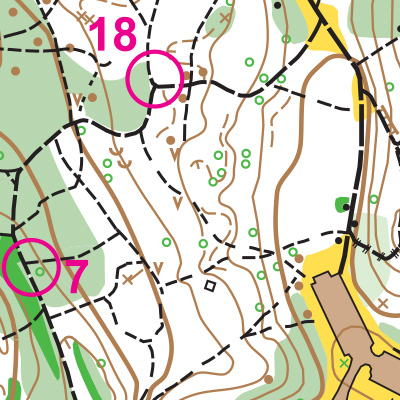 With its combination of varied contours and runnable forest, Hamlin Park was one of our favorite training maps for years. The contours remain, but the park has increasingly focused on planting new forest undergrowth–perhaps necessary in a popular city park that gets constant foot traffic. So today most contour recognition happens from the trails. There have also been some building changes since this map was last used for an event and the map updated.
Read more on the map page
SAFETY & ETIQUETTE
Return to the Finish
All participants MUST return to the finish and download their e-punch or turn in their punch card.
Even if you have not finished your course, you must still return to the the finish and confirm with event staff that you have returned safely.
Out of Bounds
Some areas may be marked out of bounds. It is imperative to respect these boundaries to maintain our relationships with land managers. Participants MUST NOT go out of bounds. Any participant caught going out of bounds will be disqualified.
Course Closure
All participants MUST return to the finish by course closure time. If a participant does not return by course closure, event volunteers will begin coordinating a search party.
If you need a long time on the course, start as early in the start window as possible, wear a watch, and be prepared to cut your course short to make it back by the course closure time.
Whistle
All participants MUST carry a whistle on the course. Complimentary whistles are available at the start tent (please only take one).
If you are injured on the course and need assistance, blow three long blasts to call for help.
If you hear a call for help, abandon your course to find the person in distress.
Voices
Part of the fun and fairness of orienteering is navigating your own course, so please be polite when you find a checkpoint and don't holler that you've found it.