Mini-WL #2 – Lynndale Park
---
Parking will be tight. Please see the site map here so you are not disqualified for walking through the park.
See start times here.
Course description sheets available here.
COVID Waiver here.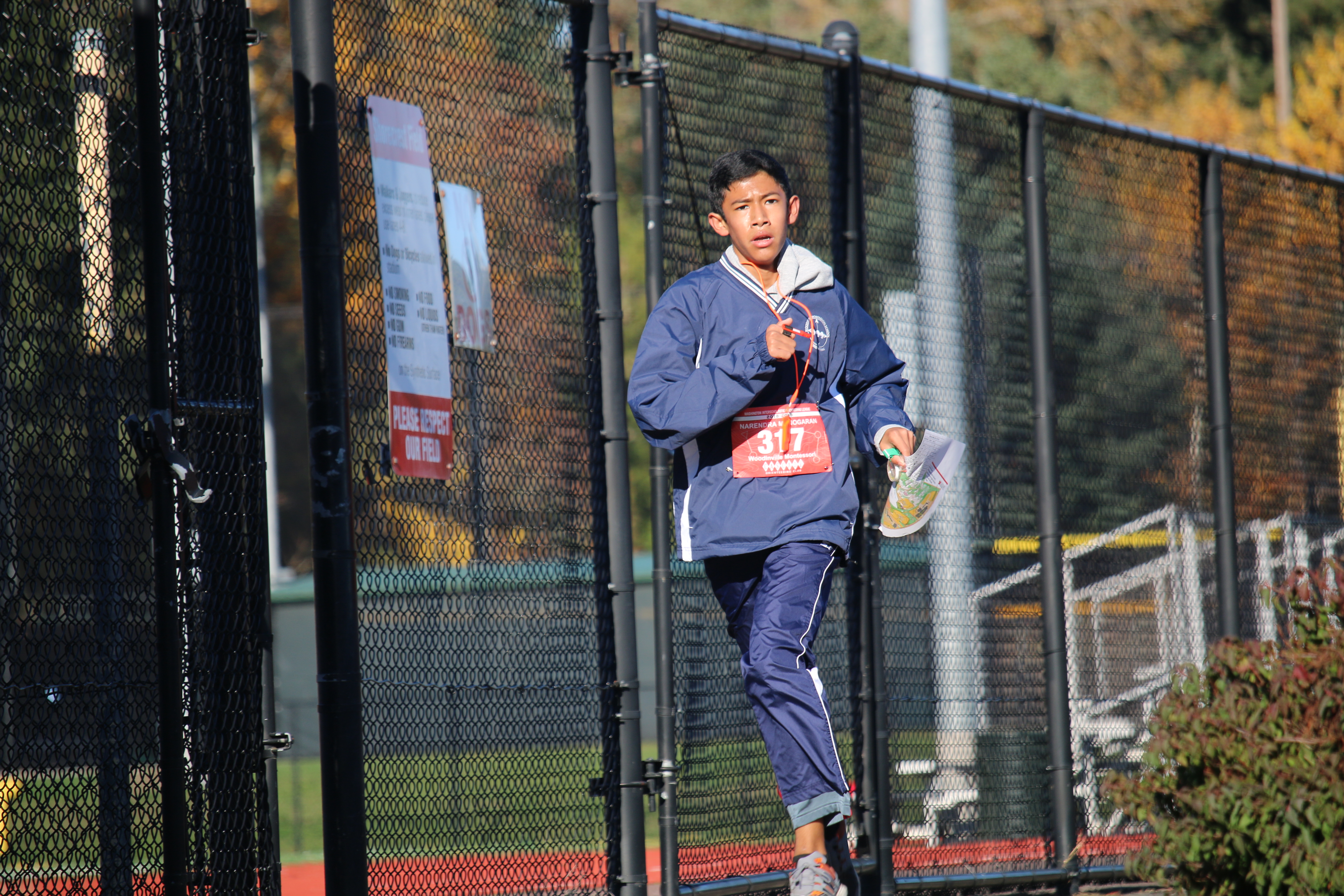 This is the second meet in the 2021 Mini-Winter League Series. For all the information you need on how this series will run, see the series page.
Rules for all Mini-Winter League Meets:
In order to get permits, we must impose the following rules:
200 participants max.
No spectators allowed. No team tents. No team gatherings.
Runners will be asked to leave the venue upon completion of their course.
No comparing route choices, standing in groups, staying around after you run. Use route-gadget and other virtual tools to compare your results after the event.
Facial coverings required for all coaches, volunteers, and athletes at all times.
Maintain 6' of distance at all times, when not running a course.
Read all the special rules for this series here.
COURSES
Course designer(s): Dave Tallent
Course distances will be provided here once the courses are finalized.
| | | | |
| --- | --- | --- | --- |
| Course | Controls | Length | Climb |
| Elementary/Beginner | 11 | 1.0 km | 20 m |
| Middle School | 12 | 1.6 km | 45 m |
| JV Rookie/Advanced Beginner | 12 | 1.6 km | 45 m |
| JV Girls/Intermediate | 12 | 1.9 km | 60 m |
| JV Boys | 12 | 1.9 km | 60 m |
| Varsity | 18 | 2.9 km | 75 m |
| Short Advanced | 18 | 2.9 km | 75 m |
| Intercollegiate/Long Advanced | 18 | 3.4 km | 100 m |
How are courses measured?
Courses are measured as the crow flies, in a direct line from control to control. Unless you have wings, you will travel farther than this distance! Courses are measured in kilometers, so a good rule of thumb is to simply round up to miles to estimate how far you will go. So in a 5 kilometer race, you'll likely travel up to 5 miles.
COURSE NOTES
The map is 1:4,000 scale with 2019 sprint standard symbols. What does this mean to you? Most notably, the major trail and out of bounds (olive green) symbols are different.
The map has been updated. New trails have been added and some others have been removed. Dark green and light green vegetation, and a few point features (boulders, a few rootstocks and knolls and pits) have been updated.
This event is essentially taking place in a functional area of a 400m square with 40+ controls. Trail junctions are abundant and less than 50m apart. To create challenging courses of any reasonable distance, and to minimize running on the same trails more than once, your course will cross paths with others on different courses. You will encounter other controls that are not on your course but on similar features. Similar features should be at least 100m apart but due to the nature of this venue, it is not possible.
What does this mean for you? To avoid mis-punching, check your control code. With so many trail junctions you will most likely find yourself "lost." Diligently thumb along on your map as you race. Try not to lose contact with your map. There are lots of decision points to be made!
If you do find yourself lost, look up; there are three powerlines crossing this park. Also, if you must totally relocate, head east or southeast; the start/finish area will never be more than 200m from you.
Off-trail is allowed but will rarely benefit you. There are 5 parking areas on the map. They are not out-of-bounds. I have tried to minimize potential conflict in the design. However, be diligent when crossing and considering staying on the paths around these areas.
David Tallent
SCHEDULE
9:30 am – Check In opens
10:00 am – Start opens
1:00 pm – Start closes
3:00 pm – Course closes
PRICES
PRE-REGISTRATION PRICES
$13 for non-members (race only)
$8 for CascadeOC members (race only)
$5 additional for e-punch rental
What's an e-punch?
An e-punch records your race. At each control, you'll dip the e-punch into an electronic box, which will beep and flash as confirmation. After you finish, you'll download the e-punch at the download tent and get a receipt that show which controls you visited and how long you took between each; these are your "splits."
Part of the fun of orienteering is comparing your splits with people who completed the same course, and discussing the routes you took!
SIGN UP
Volunteers make these events happen! You can volunteer and participate on the same day, plus earn volunteer points to earn a free meet.
PARKING:
Enter the park at the intersection of 72nd Ave W and 189th Place SW which is by the baseball fields and basketball courts to park/drop off your runner.
YOU MAY NOT PARK AT THE DOG OFF LEASH AREA OR  SKATE PARK AND WALK THROUGH THE PARK TO START. YOU WILL BE DISQUALIFIED.
You can also park at the large picnic shelter and follow the designated paved path to start (see pink line on site map here).
There may be overflow parking at Lynndale Elementary.  And along the various side streets.
YOU MUST WALK ALONG 72nd Ave W to the start area. See yellow dotted line on the site map here. Walking from any other parking through the park to get to start is grounds for disqualification.
THE MAP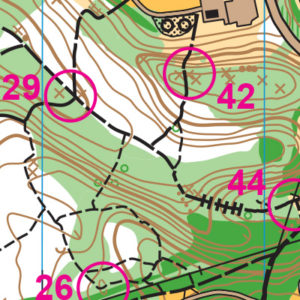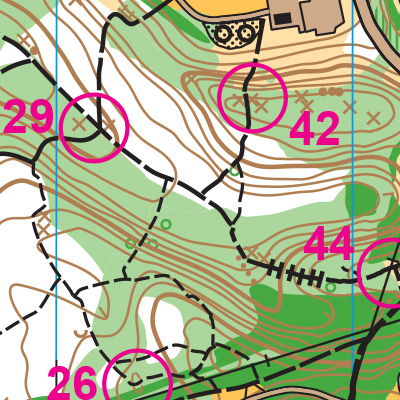 Lynndale Park is a 1:4,000-scale map with a lot happening in it. You'll find rolling hills, runnable forest, and a complex trail network bounded by open areas with buildings. This is where the school league training is held each fall.
Read more on the map page
SAFETY & ETIQUETTE
Return to the Finish
All participants MUST return to the finish and download their e-punch or turn in their punch card.
Even if you have not finished your course, you must still return to the the finish and confirm with event staff that you have returned safely.
Out of Bounds
Some areas may be marked out of bounds. It is imperative to respect these boundaries to maintain our relationships with land managers. Participants MUST NOT go out of bounds. Any participant caught going out of bounds will be disqualified.
Course Closure
All participants MUST return to the finish by course closure time. If a participant does not return by course closure, event volunteers will begin coordinating a search party.
If you need a long time on the course, start as early in the start window as possible, wear a watch, and be prepared to cut your course short to make it back by the course closure time.
Whistle
All participants MUST carry a whistle on the course. Complimentary whistles are available at the start tent (please only take one).
If you are injured on the course and need assistance, blow three long blasts to call for help.
If you hear a call for help, abandon your course to find the person in distress.
Voices
Part of the fun and fairness of orienteering is navigating your own course, so please be polite when you find a checkpoint and don't holler that you've found it.