Mini-WL #5 – Summit Trails/Rock Creek
---
Reading the course notes and the map notes below is highly recommended.
Start list here.
See site map here.
COVID waiver here.
Group waiver here.
Description sheets here.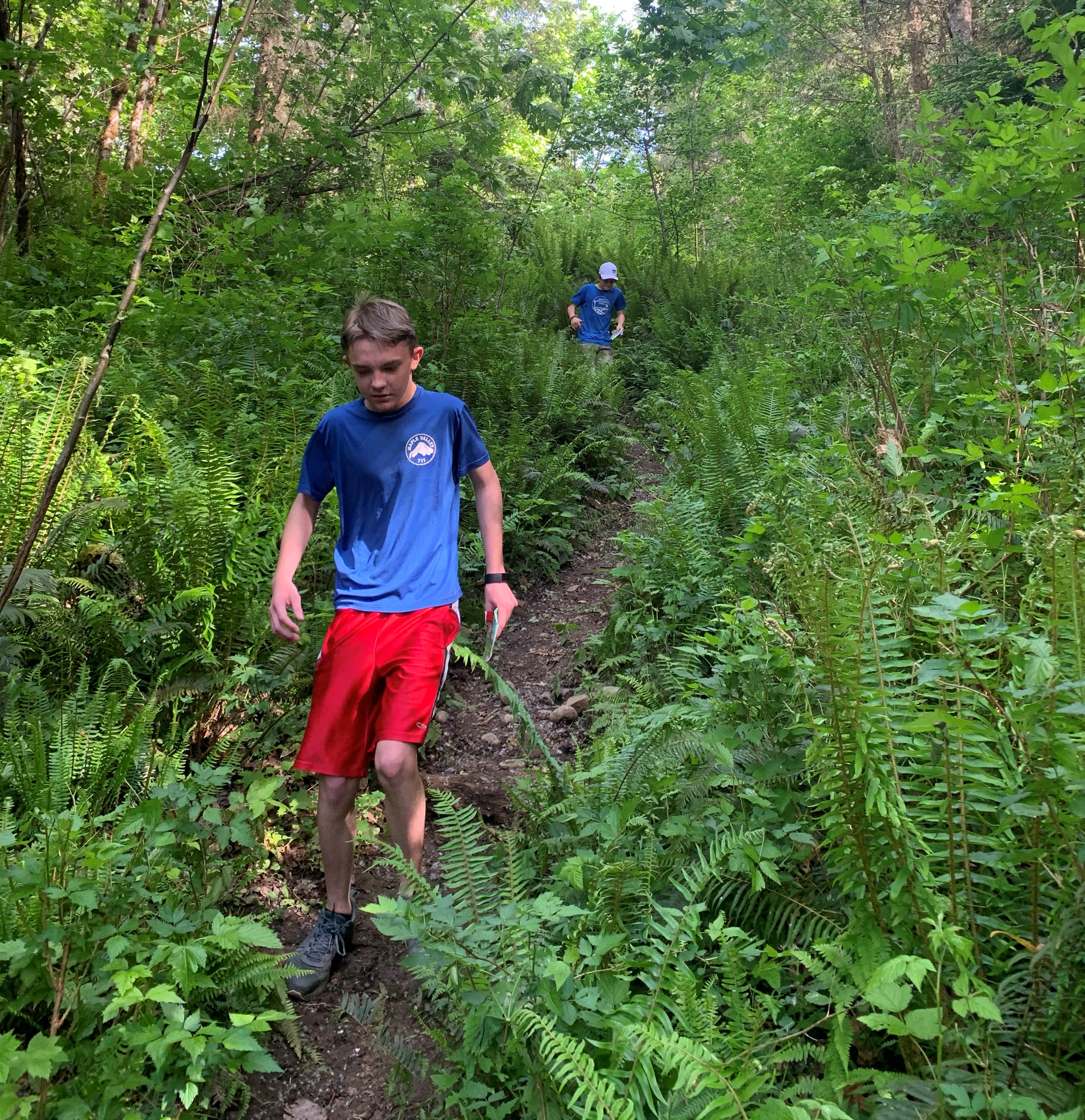 This is the fifth meet in the 2021 Mini-Winter League Series. For all the information you need on how this series will run, see the series page.
Rules for all Mini-Winter League Meets:
In order to get permits, we must impose the following rules:
200 participants max.
No spectators allowed. No team tents. No team gatherings.
Runners will be asked to leave the venue upon completion of their course.
No comparing route choices, standing in groups, staying around after you run. Use route-gadget and other virtual tools to compare your results after the event.
Facial coverings required for all coaches, volunteers, and athletes at all times.
Maintain 6' of distance at all times, when not running a course.
Read all the special rules for this series here.
COURSES
Course designer(s): John Brady
Course distances will be provided here once the courses are finalized.
| | | | |
| --- | --- | --- | --- |
| Course | Controls | Length | Climb |
| Elementary/Beginner | 9 |  1.6 km |  20 m |
| Middle School | 9 | 1.8 km |  25 m |
| JV Rookie/Advanced Beginner | 9 | 1.8  km | 25 m |
| JV Girls/Intermediate | 12 | 2.2 km | 25 m |
| JV Boys | 12 | 2.2 km | 25 m |
| Varsity | 16 | 3.2 km | 35 m |
| Short Advanced | 16 |  3.2 km | 35 m |
| Long Advanced | 19 |  3.6 km | 65 m |
How are courses measured?
Courses are measured as the crow flies, in a direct line from control to control. Unless you have wings, you will travel farther than this distance! Courses are measured in kilometers, so a good rule of thumb is to simply round up to miles to estimate how far you will go. So in a 5 kilometer race, you'll likely travel up to 5 miles.
COURSE NOTES:
WEAR PROTECTIVE GEAR:  PANTS ARE VERY NECESSARY!  Eye protection can be useful too.
This will be very hard.  I promise.  Getting lost is a high probability.  Embrace the challenge.  Let this warning guide your risk and speed level on the course.
Every course except elementary will be going off trail.  The harder courses will be nearly exclusively off-trail.  This will require entry into the forest.  If you choose your path wisely, you will be able to use elk paths to find your controls.  However, these trails have a tendency to wander and create directional confusion.  If you end up on one you didn't intend, you will likely be lost and need to work your way out of the situation by relocating to a known spot.  Ending in thick brush at some point is likely.
All courses are short, however I expect they will be slow.  For the amateur, it is highly recommended that you enter the forest from an absolute known position with certainty of both where you are, and the direction and distance you plan to go in the forest.  Keep that invisible vector in your eyesight if possible.  Simply wandering into the forest will almost certainly result in getting very confused.
There are a few open areas in the forest that can be seen by looking up to the canopy.  These clues can be handy.
Control placement will not be done to fool you.  There will be as little hide-and-seek of controls as possible, with the exception of controls on features that are quite visible themselves.  I have no desire to make this any harder than it will already be.
If you do not know how to use your compass, I highly recommend you learn now.  There will also be a small compass course set up in the parking lot to practice your skills before the race.
Again.  Wear pants.
-John Brady
MAP NOTES:
Summit Trails Middle School is surrounded by over 300 acres of forest land dedicated to King County Parks after a history of railroad and logging use.  The park area is known by many names depending on where in the complex you are:  Danville-Georgetown Open Space, Rock Creek Natural Area, or Summit Trails Middle School private land.  Over 14 miles of trails exist, and are primarily used and upkept by The Backcountry Horsemen of Washington.   Additionally, the area is home to herds of elk and deer, spotted owl and many other wildlife.  It is highly likely you will encounter some of these while on the property.  This past and present history has shaped the landscape in the park.
Much of the vegetation in the forest is thick with vegetation.  However, due to the extensive elk and deer herd that call this area home, a vast network of elk trails exist and most have been accurately mapped within the last year.  These elk paths are represented by white stripes on the map, meaning it is not a maintained trail, and subject to natures adjustment should it occur. Typically, very dense vegetation is flanked by runnable deer trail because the deer do just what a human would…avoid the dense stuff.  This creates the beaten down wandering paths you see on the map.  Since the herd is so prevalent, the animal paths are more robust than usual forest.
This area was logged in the not-too-distant past.  As a result, many stumps were left behind to rot.  There are thousands of them.  Most of these stumps have degenerated into a half knoll, half stump concoction.  In these situations, it is always mapped as a knoll.  The only stumps mapped at Summit Trails are very large: at least 2M in height and 1.5m in width.  These are undeniable stumps.  On the map, these are marked with a brown X.
Rootstocks greater than 1m and visible from all directions are mapped with a brown triangle.
Flowing from south to north on the left side of the map is "Rock Creek".  This creek can be traversed anytime of year, but does flow fast in winter and spring.  However, there are certain places where there are logs that span across the creek, and getting on and off the log on either side is quite easy.  These are marked on the map with crossing point symbols.  It is highly recommended you cross at these points should you find the need to cross the creek unless you don't mind getting wet.  There are other places that logs span the creek besides these points, however, either thick vegetation or dangerous approach on and off the log makes it undesirable.  These difficult log crossings were not inserted on the map as crossing points.
There are a few linear contour features that can be useful when navigating off the trails in the park.  Almost all of the hills are fairly straight.  Often times this is coupled with good elk trails that can make for decent shortcuts if you have the courage.  Careful though, because it is very easy to get lost in the dense vegetation and relocating becomes very difficult in these non-descript trails.  Vegetation navigation is much more tricky than it might seem!
Lastly, it is recommended you wear pants!  You will be presented with many off-trail checkpoints at this venue, testing your use of contours as handrails, compass for maintaining direction in flat areas, pace counting for distance estimation, and finding oneness with the elk as you bash through the brush.  Enjoy.
SCHEDULE
9:30 am – Check In opens
10:00 am – Start opens
1:00 pm – Start closes
3:00 pm – Course closes
Why is there a start window?
This event uses an interval start, which means that participants are started in waves instead of all at once. When you arrive at the start tent, find the chute for your course and follow the start volunteer's instructions.
PRICES
PRE-REGISTRATION PRICES
$13 for non-members (race only)
$8 for CascadeOC members (race only)
$5 additional for e-punch rental
What's an e-punch?
An e-punch records your race. At each control, you'll dip the e-punch into an electronic box, which will beep and flash as confirmation. After you finish, you'll download the e-punch at the download tent and get a receipt that show which controls you visited and how long you took between each; these are your "splits."
Part of the fun of orienteering is comparing your splits with people who completed the same course, and discussing the routes you took!
SIGN UP
Public Registration will open on Monday, April 19th at 7pm and close on Wednesday, April 21st at 9pm.
Volunteers make these events happen! You can volunteer and participate on the same day, plus earn volunteer points to earn a free meet.
PARKING
Parking is at Summit Trails Middle School. See site map here.
THE MAP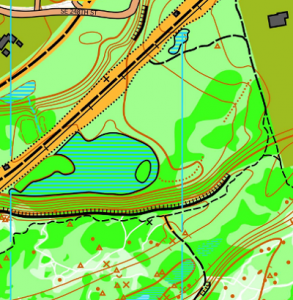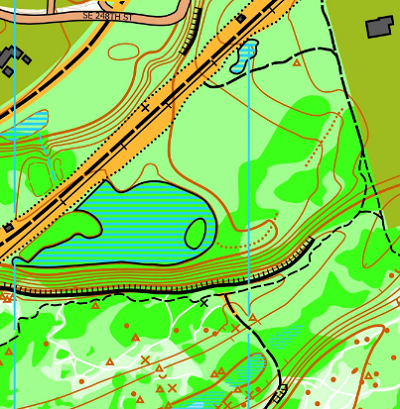 Summit Trails/Rock Creek Natural Area is part of the larger Danville-Georgetown Open Space. This moderately flat area has numerous contour and vegetation features, such as stumps, rootstocks, depressions, and knolls. Passage through the trees is often possible using faint elk trails. Adjacent to Summit Trail Middle School.
Read more on the map page
SAFETY & ETIQUETTE
Return to the Finish
All participants MUST return to the finish and download their e-punch or turn in their punch card.
Even if you have not finished your course, you must still return to the the finish and confirm with event staff that you have returned safely.
Out of Bounds
Some areas may be marked out of bounds. It is imperative to respect these boundaries to maintain our relationships with land managers. Participants MUST NOT go out of bounds. Any participant caught going out of bounds will be disqualified.
Course Closure
All participants MUST return to the finish by course closure time. If a participant does not return by course closure, event volunteers will begin coordinating a search party.
If you need a long time on the course, start as early in the start window as possible, wear a watch, and be prepared to cut your course short to make it back by the course closure time.
Whistle
All participants MUST carry a whistle on the course. Complimentary whistles are available at the start tent (please only take one).
If you are injured on the course and need assistance, blow three long blasts to call for help.
If you hear a call for help, abandon your course to find the person in distress.
Voices
Part of the fun and fairness of orienteering is navigating your own course, so please be polite when you find a checkpoint and don't holler that you've found it.