Choose Your Adventure: SummerFEST!
---

The Choose Your Adventure series is designed to be extra fun, social, and friendly for beginners, yet interesting for seasoned veterans.
At Choose Your Adventure events, everyone gets the same map with checkpoints marked all over it. Find as many checkpoints as you want, in whichever order you want!
Choose Your Adventure is especially good for beginners, since if you can't find a checkpoint, you can just skip it and keep going. Veterans are challenged by trying to identify the most efficient route to find all the checkpoints.
Come join the fun!
This is a special Choose Your Adventure event, because it's FREE and a part of Lakewood's annual SummerFEST celebration!
Is this your first event or do you want to improve your skills? We'll also provide free skills instruction all afternoon!
Because this event is FREE, online pre-registration is not required (it requires creating an account). Just show up!
COURSES
Course designer(s): Patrick Nuss
There is a just one-size-fits-all course for beginners through advanced runners. Everyone will receive one map with 24 checkpoints scattered throughout Fort Steilacoom Park, and you may visit as many or as few as you want, in any order you want!
SummerFEST is also offering a "Passport to Sports", which you can pick up for free at the SummerFEST headquarters tent. Receive passport stamps at each of the sports activities, which enter you for raffle prizes! To have your passport stamped for the orienteering course, you will need to visit at least 6 of our 24 checkpoints.
To visit all 24 controls, you'll be going a minimum of 6.1 km. To visit 6 checkpoints required to have your passport stamped, you'll be going a minimum of 1.4 km.
How does the scoring work?
All 24 checkpoints are worth the same amount: 1 point per checkpoint. The maximum score is 24 points. 6 points are required to have your "Passport to Sports" stamped.
Unlike our other events, there will NOT be officially published results.
SCHEDULE
SummerFEST activities will be going on all day at the park:
09:00am to 12:00pm – Triathlon, 5k & 10k Trail Runs
11:00am to 03:00pm – Car Show
11:00am to 05:00pm – Passport to Sports, Arts, International Festival, Children's Activities
11:00am to 07:00pm – Yoga
01:00pm to 09:15pm – Live Music
09:30pm to 11:00pm – Free Movie: Minions

Orienteering Schedule: (look for our tent at the SW corner of the soccer fields)
11:00am – 04:30pm – Orienteering Instruction Available
12:30pm – 05:00pm – Race Course Open (last start at 4:30pm)
Unlike our other events, there is NO time limit and you may start when you want between 12:30pm and 4:30pm. If you want to have your "Passport to Sports" stamped, you'll need to start before 4:30pm come back to our tent before 5:00pm.
PRICES
FREE for everyone!
Because it's free, this event will not be using electronic timing (aka e-punching)! We'll be using pin-punches, and the punchcard will be printed on the map.
SIGN UP
This event is FREE, and online pre-registration is not required (it requires creating an account). Just show up!
Volunteers make these events happen! You can volunteer and participate on the same day, plus earn volunteer points to earn a free meet in the future.
PARKING
SummerFEST is a big event drawing thousands of people. There will be parking in the parking lots and fields in the park. Enter the park from the northeast corner (Steilacoom Blvd & 87th Ave) and follow signage to SummerFEST parking. There is no specific parking for orienteers, and we won't have our usual signage in the park.
Look for our tent in the SW corner of the soccer fields!
THE MAP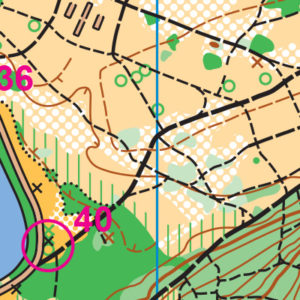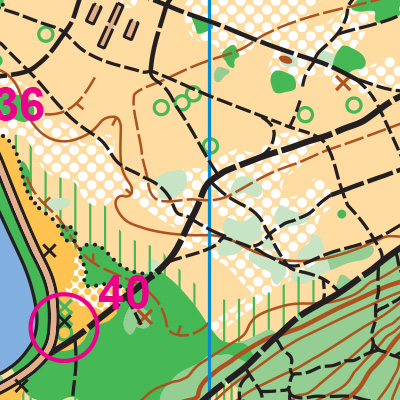 While Fort Steilacoom is not rugged or remote, it can be fairly challenging for a city park. There are many criss-crossing trails here, both in open grass and in forest. However, there are also many distinct features such as buildings, roads, ballfields, and a small lake, that are great navigational aids.
Part of the park is very flat, while part of the park is quite steep. How steep your course is depends on which course you choose and how nice the course designer decided to be.
Read more on the map page
SAFETY & ETIQUETTE
Out of Bounds
Some areas may be marked out of bounds. It is imperative to respect these boundaries to maintain our relationships with land managers. Participants MUST NOT go out of bounds. Any participant caught going out of bounds will be disqualified.