Winter League #3 – St. Edward State Park
---
NEW INFORMATION AS OF 12/6:
Parking is now available in 5 areas (4 paved, 1 grass lawn) so we should have enough parking onsite for this event.
Please see revised site map here.
 FOR RUNNER SAFETY:

 

Because of the parking and construction situation, all runners are required to remain on a short trail for the initial part of your course. Expect congestion. Run with caution. Punch controls and quickly move on. Do not block the path.

 

After you pass an intersection marked by orange cones, you are free to choose your route of travel. 
Per last announcement:
St Edward has some construction going on so nothing this year is "where it's always been".  See new site map.
A Discover Pass is required to park in this state park.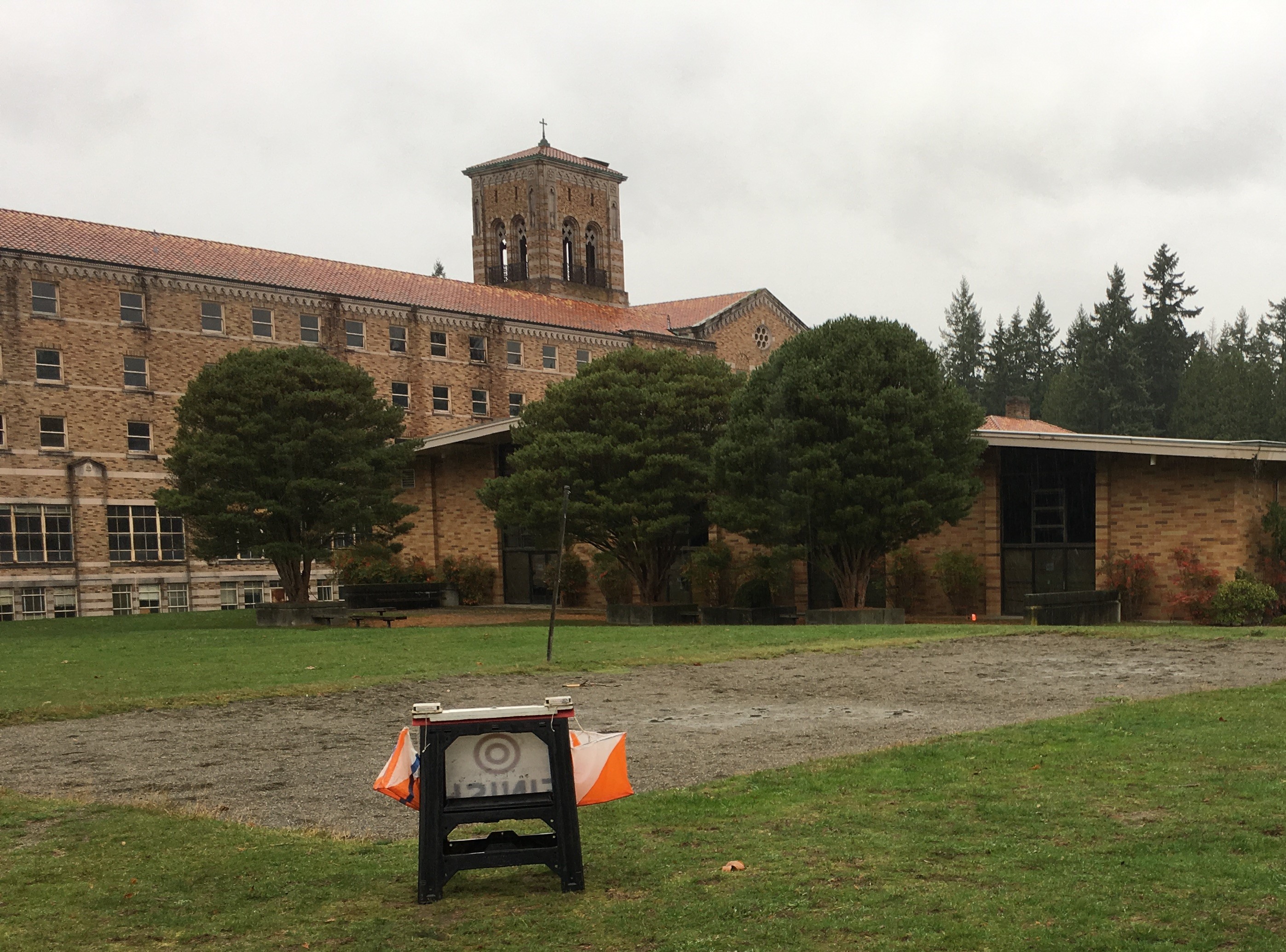 What is Winter League?
Winter League is the Pacific Northwest's premier competitive orienteering series for all ages. Elementary, Middle School, and High School students compete under the banner of the Washington Interscholastic Orienteering League (WIOL). Cascade Orienteering Club also offers a competitive league for college students and adults, as well as non-competitive beginner-friendly categories at every event!
COURSES
Course designer(s): Serge Smirnov and Cynthia Bartok
| | | | |
| --- | --- | --- | --- |
| Course | Controls | Length | Climb |
| Elementary/Beginner | 10 | 1.5 km | 40 m |
| Middle School | 9 | 1.7 km | 50 m |
| JV Rookie/ Advanced Beginner | 12 | 2.6 km | 100 m |
| JV Girls / Intermediate | 14 | 2.8 km | 110 m |
| JV Boys | 13 | 3.0 km | 110 m |
| Varsity | 14 | 4.1 km | 190 m |
| Short Advanced | 14 | 3.9 km | 145 m |
| Advanced | 18 | 5.6 km | 325 m |
How are courses measured?
Courses are measured as the crow flies, in a direct line from control to control. Unless you have wings, you will travel farther than this distance! Courses are measured in kilometers, so a good rule of thumb is to simply round up to miles to estimate how far you will go. So in a 5 kilometer race, you'll likely travel up to 5 miles.
COURSE NOTES
Welcome to Winter League meet #3 on the sites of both St. Edward State Park and Bastyr University. We hope you enjoy the amazing natural beauty of these locations as you navigate your courses. Here is some information the course designers would like you to know: 
This is an on-trails venue. Specifically, you must remain on a mapped trail except for in these other legal areas:

Parking lots, access roads, and other paved surfaces marked tan on the map

Open, runnable fields marked various shades of yellow, including the orchard which is yellow with green spots (if the field is wet, consider going around to preserve the park)

Every control can be punched with your feet in a legal space (on-trail, paved, or "field"). Disqualification can occur if you violate this rule as it places COC at risk for loss of these sites for future events and damages sensitive areas of vegetation.

Due to construction at St. Edwards, an access road that is normally closed is now open to traffic. To minimize risks of car vs person accidents, this road section is marked as out of bounds. Everyone will be required to remain on a short trail for the initial part of their course. Expect congestion on this short trail. People running should run with caution. Punch controls and quickly move on. After athletes pass an intersection marked by orange cones, they are free to choose their route of travel.

Out of bounds (OOB) areas are marked on the maps – they are marked as black slashes, red slashes, and red lattice marks. Due to construction, parking, and traffic hazards, much of the area around the St. Edward's Seminary is OOB.

Required crossing areas: Beginner/elementary, middle school/advanced beginner, and JV boys have a mandatory street crossing for safety. This crossing is clearly marked on the map and in the control description table.

Map scale is 1:10,000, contour interval is 5 meters

Map features/legend follow older regulations for symbol use. Symbols are clearly defined in the legend:

Black color: dot = boulder, triangle = boulder cluster, X = person made object

Brown color: dot = knoll, X = rootstock

Green color: open circle = stump, X = single tree

Blue: open circle = manhole, X = fire hydrant

Control descriptions follow updated Purple Pen symbols:

X within circle = rootstock

X = special item, human made

Open circle = special item, nature made

Thank you to David Tallent for investing nearly 100 hours in map updates. The map's trails are more accurate and lots of new features have been added to enhance navigation.

There will be other visitors at St Edwards and Bastyr University. Expect people, dogs, and mountain bikes throughout the area. Expect traffic on roads and parking lots. Be vigilant and aware.

Bastyr University welcomes you to visit campus! The cafeteria will have hot beverages (coffee, tea, hot chocolate) and light foods from 8 AM until 2 PM. The space can easily seat many large groups for post-event analysis, social time, and restoring circulation to cold toes. The bookstore has snacks, books, and gifts; it is open 10 AM – 2 PM. Parking is free and the public is

welcome

to walk the gardens and main building. 
SCHEDULE
9:30 am – Registration opens
9:30 am – Newcomer instruction available
10:00 am – Start opens
11:45pm – Registration closes
Noon – Newcomer instruction ends
Noon – Start closes
2:30 pm – Course closes
**PLEASE NOTE COURSE CLOSURE IS NOW 2:30 PM FOR ALL WINTER LEAGUE MEETS**
Why is there a start window?
This event uses an interval start, which means that participants are started in waves instead of all at once. When you arrive at the start tent, find the chute for your course and follow the start volunteer's instructions.
PRICES
PRE-REGISTRATION PRICES
$17 base price
– subtract $5 for CascadeOC members
– subtract $5 for using your own e-punch
DAY-OF-EVENT REGISTRATION
$20 base price
– subtract $5 for CascadeOC members
– subtract $5 for using your own e-punch
What's an e-punch?
An e-punch records your race. At each control, you'll dip the e-punch into an electronic box, which will beep and flash as confirmation. After you finish, you'll download the e-punch at the download tent and get a receipt that show which controls you visited and how long you took between each; these are your "splits."
Part of the fun of orienteering is comparing your splits with people who completed the same course, and discussing the routes you took!
SIGN UP
Online pre-registration closes:
Day-of-event registration is available by cash or check, made payable to Cascade Orienteering Club
Volunteers make these events happen! You can volunteer and participate on the same day, plus earn volunteer points to earn a free meet.
PARKING
See site map for the 4 paved and one grass lawn areas we are allowed to park in.  This should yield enough parking for our event. However if it should become necessary, a limited amount of overflow parking as well as bus parking is available at Bastyr University.
THE MAP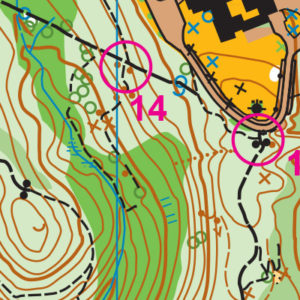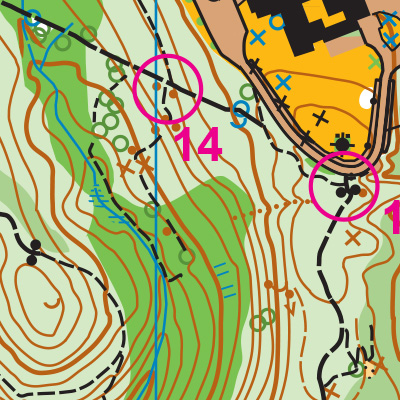 Many of our venues are built on hills. St Edward Park is the hilliest of them all! It is also among the first maps that this club created, more than 30 years ago.
This map combines two open and developed campuses with a complex trail network behind the college and another, simple set of trails going down the steep, steep slopes from the St. Edward historic seminary building to the water.
When used with adjacent land, this park provides enough geographic range that it has been used with a mountain bike orienteering course. Even without that section, it is routinely part of the large meets in the winter series and student league.
Read more on the map page
SAFETY & ETIQUETTE
Return to the Finish
All participants MUST return to the finish and download their e-punch or turn in their punch card.
Even if you have not finished your course, you must still return to the the finish and confirm with event staff that you have returned safely.
Out of Bounds
Some areas may be marked out of bounds. It is imperative to respect these boundaries to maintain our relationships with land managers. Participants MUST NOT go out of bounds. Any participant caught going out of bounds will be disqualified.
Course Closure
All participants MUST return to the finish by course closure time. If a participant does not return by course closure, event volunteers will begin coordinating a search party.
If you need a long time on the course, start as early in the start window as possible, wear a watch, and be prepared to cut your course short to make it back by the course closure time.
Whistle
All participants MUST carry a whistle on the course. Complimentary whistles are available at the start tent (please only take one).
If you are injured on the course and need assistance, blow three long blasts to call for help.
If you hear a call for help, abandon your course to find the person in distress.
Voices
Part of the fun and fairness of orienteering is navigating your own course, so please be polite when you find a checkpoint and don't holler that you've found it.