Welcome to the Winter and School League (WIOL) Series!
ABOUT THE SERIES
These concurrent and popular series run from November through February. The Winter Series is open to all, while WIOL (Washington Interscholastic Orienteering League) is designed for students from Elementary-age through High School.
Events in the first half of the season are held in beginner-friendly venues, some of which are trails-only, while events in the second half move to more forested and challenging venues. The season is capped off with a championship event and an awards ceremony to recognize top participants and school teams in both the series overall and championship event.
As with all of Cascade OC's series events, while it is fun to participate in the entire series, it is not required. Each event is a stand-alone event and open to all!
Register for WINTER SERIES (open to both kids and adults) at the link below or at the event!
Warm up with a Micro O' course!
As a training exercise, there is a short Micro O' set up (similar to the ones at previous WIOL events this season). This will be a self-service activity and you will need to print your own maps and description sheets [2018-02-03-GRC-Micro-O] . There is also a brief write up on how to use Micro O' to practice "flow" [Micro-O-How-To]. The course was not field checked so there might be minor discrepancies. Be careful crossing the road/parking lot! The areas outside the outer limits of the Micro O' are the competition terrain for the meet and participants should avoid entering them before competing.
COURSES
Course designer(s): Peter Golde and Julie Cassata
WIOL (school league) courses
| | | | |
| --- | --- | --- | --- |
| Course | Controls | Length | Climb |
| Elementary | 12 | 1.5 km | 15 m |
| Middle School | 13 | 2.5 km | 25 m |
| JV Girls | 14 | 2.9 km | 35 m |
| JV Boys N | 13 | 2.8 km | 35 m |
| JV Boys S | 13 | 2.9 km | 35 m |
| Varsity | 18 | 3.4 km | 40 m |
Public courses
| | | | |
| --- | --- | --- | --- |
| Course | Controls | Length | Climb |
| Beginner | 12 | 1.5 km | 15 m |
| Intermediate | 14 | 2.9 km | 35 m |
| Short Advanced | 15 | 3.5 km | 50 m |
| Long Advanced | 21 | 5.3 km | 75 m |
How are courses measured?
Courses are measured as the crow flies, in a direct line from control to control. Unless you have wings, you will travel farther than this distance! Courses are measured in kilometers, so a good rule of thumb is to simply round up to miles to estimate how far you will go. So in a 5 kilometer race, you'll likely travel up to 5 miles.
COURSE NOTES
Map Scale: 1:4,000     Contours: 5m
Green River College is an interesting mix of urban campus, sprint-style orienteering, and traditional forest/trail style orienteering. You will change between campus and forest multiple times on your course, so be prepared. Climb will be minimal; the forest sections can have some thorny undergrowth, so bare legs are not recommended.
The Varsity, Short Advanced, and Long Advanced courses are printed with half the course on one side of the map, half the course on the other side. Once you reach the end of the first half, just flip the map over and finish your course. The map exchange symbol on your control description sheet indicates where the map flip occurs.
The map has several less familiar symbols that you should be aware of:
Light gray attached to a building indicates an overhang. You can run underneath these!
Olive green in the campus area is a planted area that is out of bounds. Crossing these, even a single step, is grounds for disqualification. We need to maintain our access to this campus and trampling plants will cause us to not be allowed back. These should be fairly obvious even not looking at your map, but if you are unsure, go around.
Black X, as is usual for COC, denotes a man-made object. This is represented by an X on the control description sheet.
Black circle is a special symbol that denotes a light pole. There are a lot of these! This is represented by an O on the control description sheet.
Brown X, as usual for COC, denotes a rootstock – the roots of a fallen tree. This is represented by an X inside an O on the control description sheet.
Green O denotes a major stump. This is ALSO represented by an X inside an O on the control description sheet, as according to International Orienteering Federation standards.
Green X is a major isolated tree. These are mapped somewhat inconsistently; there are many more major trees than are mapped.
Green dot is a bush or small tree.
Blue circle, the symbol for well or enclosed spring, is used to denote fire hydrants. These are represented by the well symbol on the control description sheet; a circle with a wavy line underneath.
SCHEDULE
9:30am – Registration opens & Newcomer instruction available
10:00am – Start opens
11:00am – Newcomer instruction ends
11:30am – Registration closes
Noon – Start closes
2:30pm – Course closes
Why is there a start window?
This event uses an interval start, which means that participants are started in waves instead of all at once. When you arrive at the start tent, find the chute for your course and follow the start volunteer's instructions.
PRICES
PRE-REGISTRATION PRICES
$17 base price
– subtract $5 for CascadeOC members
– subtract $5 for using your own e-punch
DAY-OF-EVENT REGISTRATION
$20 base price
– subtract $5 for CascadeOC members
– subtract $5 for using your own e-punch
What's an e-punch?
An e-punch records your race. At each control, you'll dip the e-punch into an electronic box, which will beep and flash as confirmation. After you finish, you'll download the e-punch at the download tent and get a receipt that show which controls you visited and how long you took between each; these are your "splits."
Part of the fun of orienteering is comparing your splits with people who completed the same course, and discussing the routes you took!
SIGN UP
Online pre-registration closes t 9 pm on Thursday, February 1st.
Day-of-event registration is available by cash or check, made payable to Cascade Orienteering Club.
SCHOOL LEAGUE (WIOL)
For information on registration for the School League, visit the School League (WIOL) page.
Volunteers make these events happen! You can volunteer and participate on the same day, plus earn volunteer points to earn a free meet.
PARKING
Follow the Directional signs to the parking lot.
THE MAP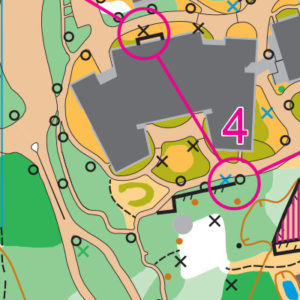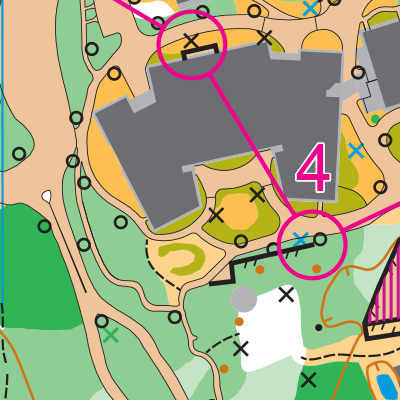 Green River College is almost like two venues–a dense college campus surrounded by thick forest and undergrowth with infrequent trails, some of which are prone to winter flooding. Over time, Cascade Orienteering Club has focused more on the campus, expanding that portion into a 1:4000 sprint map.
As with any campus map, good awareness of building shapes, size, and direction–and the fact that you're on a 1:4000 map–help with navigation. Note that the underground garage in the large, northeastern-most building is out of bounds and cannot be used for navigation. Other out-of-bounds areas are fenced. And as always, look both ways when crossing a road; there are lots of parking lots here!
Read more on the map page
EMBARGO NOTICE
To ensure a fair competition among all student league participants, participants are not allowed to visit each event venue for the two weeks prior to the event being held there. In orienteering, this is known as an "embargo".
SAFETY & ETIQUETTE
Return to the Finish
All participants MUST return to the finish and download their e-punch or turn in their punch card.
Even if you have not finished your course, you must still return to the the finish and confirm with event staff that you have returned safely.
Out of Bounds
Some areas may be marked out of bounds. It is imperative to respect these boundaries to maintain our relationships with land managers. Participants MUST NOT go out of bounds. Any participant caught going out of bounds will be disqualified.
Course Closure
All participants MUST return to the finish by course closure time. If a participant does not return by course closure, event volunteers will begin coordinating a search party.
If you need a long time on the course, start as early in the start window as possible, wear a watch, and be prepared to cut your course short to make it back by the course closure time.
Whistle
All participants MUST carry a whistle on the course. Complimentary whistles are available at the start tent (please only take one).
If you are injured on the course and need assistance, blow three long blasts to call for help.
If you hear a call for help, abandon your course to find the person in distress.
Voices
Part of the fun and fairness of orienteering is navigating your own course, so please be polite when you find a checkpoint and don't holler that you've found it.