How to Use UsynligO for the Winter Virtual Series
---
Many of the instructions below have been previously posted and discussed. However, some participants are still experiencing issues. It is our hope that this final briefing will rectify and bring all up to speed with UsynligO.
A smart phone is required to use the UsynligO app but you can still download and print maps from the web page. See Before You Go below for details.
Install UsynligO
Download the UsynligO app to your phone
Open UsynligO
Select Sign in With UsynligO
Enter your email address and password and press Register
Set up your profile as specified below
Press Save changes
Profile Settings
For the Winter Virtual Series, please follow the example below to set up your profile so that we can assign you to the correct category.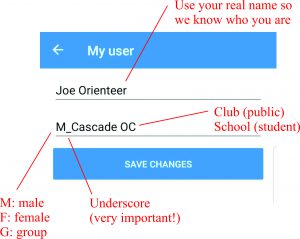 IT IS IMPORTANT THAT YOU ENTER the above requested data PRECISELY as indicated. Our computer program looks for certain characters to correctly place results by course, gender, student/public and time. Setting up your profile as requested will save the Results crew a lot of time and frustration manually correcting xml files, so please be nice to us and to yourself.
In the PROFILE page
Your name:Dee Tee
Upper case D, T
M_Cascade OC
M_(ale) F_(emale) G_(group)
followed by an underscore,
then Club name, School name or No club. Further, use the following abbreviations.
OC (Orienteering Club)
HS (High School)
MS (Middle School)
ES (Elementary School)
 Further examples:
| | | | |
| --- | --- | --- | --- |
| Students | F_Interlake HS | M_Bellevue MS | F_Kenmore ES |
| Public | F_Cascade OC | M_Cascade OC | M_Orienteering Kansas |
Already have an account?
If you already have an UsynligO account but your profile is not set up as above, please edit your profile
Note: if you're borrowing a phone from someone who already has an account, please create a new account for yourself.
Open UsynligO
Select MY RACES
Press the Profile icon ()
Update your profile as in the above examples
Press Save Changes
Important! Press the Synchronize icon () to update your previous races with your new profile information
Winter Virtual Series Rules
To create interest, participation, and training, you may walk/run/race on any one or all the courses offered. This is training. You may even break a course down into parts for training. You may run a course multiple times and try to improve on your time.
To facilitate the above, courses have been designed to be short in length on purpose, so participants have lots of opportunity to tailor their own training. Specifically:

the opportunity to run all the courses (if they wish)
run their course of choice multiple times
try different route choices between controls
go to the park many times
Finally, after lots of training, study, and practice, run their best race for fun points before the two weeks are up. This is training with a competitive element! Enjoy.
Scoring: even if you run all the color courses at each event, we will choose only your most advanced course for scoring purposes.
Each leg ends at the control feature, not the jingle on your phone. Your phone should sound once you have entered the control circle. Your phone may sound outside the circle, upon entering the circle, at the exact control location or even leaving the circle. Be aware, even if you run the course many times your phone will not sound exactly at the same position each time and two phones may not sound at the same location. Now for the rule. As with regular orienteering, please go to the control feature and do not end the leg when your phone sounds, potentially saving you a few meters and seconds. Think fairness, and honesty.
For each event "fun/participation" points will be awarded for each Course, Student/Public, Male/Female (16 categories), based on your time. 1st place 100 points; 2nd place 95; 3rd place 92; 4th place 90; 5th place 89 and so on.
All 4 events count towards your final series total. Max score 400
Get ready to run
Before you go
Print the course(s) that you are interested in. Since you are most likely to mark up your map after each run, consider printing a few copies of your course. You may also just use the course map on your phone.
What if I do not have a phone? Go to the UsynligO web page (www.usynligo.no) and find the event (course maps should also be linked on the relevant COC event page). Download and print maps. You can still participate and train, which is the focus of this series. However, unless you have a phone or borrow a phone, you cannot participate in accumulating fun points since UsynligO App with phone is necessary to track your progress and record your time.
At the event
Phone settings
Verify that you have granted UsynligO "ALWAYS" access to your location.
Make sure you do NOT have a power saving setting enabled.
TURN UP the volume.
App settings
Open UsynligO. Press the Settings Icon ().
Set Control radius to 20m and Minimum GPS accuracy to 100m.
Select USYNLIGO EVENTS. At the top of the screen are four icons: WORLD (map shows all events worldwide); LIVELOX RERUN; PERSON; INFORMATION. Select venue by

pressing WORLD ICON and locating pointer,
enter date and/or Distance from your home,
scrolling down to find event,
or query (magnifying glass) to find the event.
Open UsynligO Events of your choice. All the courses at this venue can now be seen.
Open, and choose Model/Test course first (VERY IMPORTANT) to test the app and your device.

Walk to the Start triangle.
PRESS START Now walk the course. No need to run.

This is where you will find if your phone volume and settings all work!
This is where your GPS will update to your current position and not think you're still at home!
This is where you will hear various musical jingles (see Musical Feedback below)
Finally open your course of interest. WHITE or YELLOW or ORANGE or RED.
You do not need to Set PUBLISH MY TIME at this time. Your race will be recorded in MY RACES.

Suppose you ran RED 3x and suppose your second race was the fastest. Go to MY RACES. Press the Race you want to be PUBLISHED in the results.  Move the button to the left (UNPUBLISH/OFF), then to the right (PUBLISH/ON)
If you have run multiple courses including the model, PUBLISH only your best result.

Now run, train, practice, learn, and have fun.
During your run you may select TAP HERE FOR THE (orienteering) MAP, which you could use if you do not want to print a hardcopy.
From the above if you are lost you may select WHERE AM I? This will give you an aerial map showing you track and position.
Musical Feedback
UsynligO provides musical feedback for the following actions.
Other UsynligO features
After every control visited your split, position, and total time will be posted on your phone.
The Results icon () will list the current published results, finishers in order of elapsed time without issues, followed by persons currently on the course but not finished, then DQ and DNF
If you want to track a runner, choose the course, Press the Results icon for current standings, then the Sync icon to Sync/Update, scroll down to the not finished section and find your runner. It will tell you the last control they visited and their current time and position. A happy story: I lost my phone. After I returned to the finish, I asked another runner to check my status on the course. It, of course, told me my last control visited with my phone. I went to that control and found my phone!
You can also select other runners to view their splits, hints and distance traveled!
You may share your route. Select your run. Scroll to the end of your splits. Select SHARE ROUTE TRACKING, then press PUBLISH TO LIVELOX or SHARE ROUTE TRACKING, Select App (your email etc.)
A word of warning: "Real" vs UsynligO orienteering
Orienteering maps are for the most part fairly accurate geographically/spatially. A trail intersection could be 2mm off on the map (that's 20m on the ground on a 1:10000 map) and would present no issues if even noticed. One navigates RELATIVE to the features on the leg. A point feature e.g., boulder or rootstock that was 2mm off would probably present no navigation issues. UsynligO control is defined by a PRECISE GPS location and does not know a feature has been mapped 20m off. Consequently, you arrive at that boulder/rootstock and your phone does not sound. You may have to circle around or near the feature for your phone to sound.
Just remember, Orienteering maps/control locations are RELATIVE, UsynligO controls are PRECISE.  This is the reason why we ask you to set your UsynligO APP to control circle radius of 20m to accommodate this issue.
FYI, printed control circles on your map are half a centimeter in diameter. That represents 50m (25m radius) on a 1:10,000 map and 25m (12.5m radius) on a 1:5,000 map.