Bridle trails is an on-trail-only venue, with chest-deep salal on both sides and rumors of some old wells and pits in the underbrush. But it makes up for this navigational limitation by having an intricate network of trails that make it a perfect place to practice a range of skills:
Feature recognition (What is the shape of this trail?)
Compass use (Which way does this trail go?)
Pace counting (Should I be expecting an intersection soon?)
Contours (Is this trail supposed to be going down or up?)
Navigationally, this is a 1:10,000 map of three levels of trail network and a wide power line strip through the center. It is bounded on the outer edge by a series of perimeter trails that border roads, with a center of activity on the west side.
NOTE: Bridle Trails is a horse-focused park. If a horse is on course and need to approach, slow down and make your presence known verbally to keep the horse from spooking. The animals may be bigger than you, but you're a lot scarier than they are!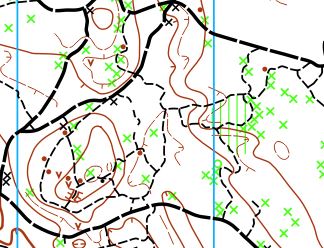 Note: Samples of the map are provided here for educational purposes only; the map shown here is not kept up-to-date. The course shown is a Beginner/Intermediate course, and actual controls do not exist in the terrain.
The purpose of providing these navigational and physical ratings below is to provide greater context for how challenging an orienteering course at this venue might be. For example, an advanced-level course at a local city park will be easier to complete than an advanced-level course in the mountains.