Featuring unique scabland terrain, Fishtrap Lake is challenging, yet accessible, and a complete joy to navigate. On one hand, there are tons of tiny cliffs and rock details. On the other hand, there are so few trees here, that the views are expansive, allowing you to orient yourself off of faraway cliffs. Fishtrap also provides a perfect opportunity to test compass skills, since there is little to stop you from beelining straight to the next control.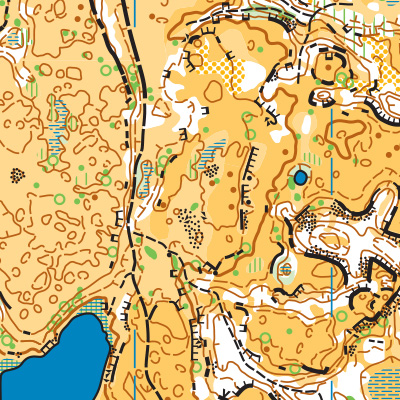 Note: Samples of the map are provided here for educational purposes only; the map shown here is not kept up-to-date. The course shown is a Beginner/Intermediate course, and actual controls do not exist in the terrain.
The purpose of providing these navigational and physical ratings below is to provide greater context for how challenging an orienteering course at this venue might be. For example, an advanced-level course at a local city park will be easier to complete than an advanced-level course in the mountains.