Ultimate Orienteer #9: Goat
---
The Ultimate Orienteer series is the sampler pack of orienteering: each event gives you the opportunity to try a different flavor!
The ninth event in the series is: the GOAT!
A "Goat" is the rare format that encourages following other competitors! Yes, a Goat is a mass-start event, in which participants must find checkpoints in consecutive order marked on the map. However, there is one very important twist: you may skip a checkpoint (or two, depending on the course)! 
Goats (the event, not the animal) tend to be long in length, compared to more traditional orienteering events.
COURSES
Course designer(s): John Harbuck
Goat – 15.8 km, 30 controls, 2 skips allowed (5-hour time limit)
Kid – 8.5 km, 19 controls, 2 skips allowed (3-hour time limit)
Zygoat – 5.0 km, 10 controls, 1 skip allowed (3-hour time limit)
ULTIMATE CATEGORIES
Open Men/Women – Goat
Masters Men/Women (50+) – Kid
Jr. Men/Women (20 and under) – Kid
How are courses measured?
Courses are measured as the crow flies, in a direct line from control to control. Unless you have wings, you will travel farther than this distance! Courses are measured in kilometers, so a good rule of thumb is to simply round up to miles to estimate how far you will go. So in a 5 kilometer race, you'll likely travel about 5 miles.
SCHEDULE
11:00am – Registration opens
12:00pm – Goat mass start
12:15pm – Kid and Zygoat mass start
3:15pm – Kid and Zygoat time limits end
5:00pm – Goat time limit ends
*There is a 0.7km walk from the parking area to the start.
SIGN UP
Registration for this event is through Eastern Washington Orienteering Club. There is no online pre-registration, only on-site registration. You may email John Beck to inform EWOC that you are planning to attend and which course you will run, to help ensure that enough maps are printed.
Registration is $15.
PARKING
Follow the orienteering signs to the Farmer's Landing parking area.
THE MAP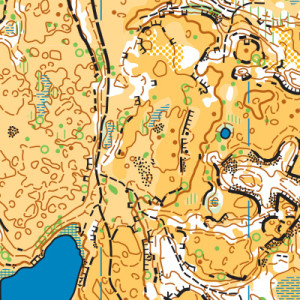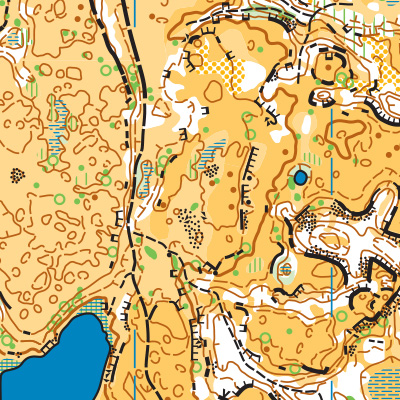 Featuring unique scabland terrain, Fishtrap Lake is challenging, yet accessible, and a complete joy to navigate. On one hand, there are tons of tiny cliffs and rock details. On the other hand, there are so few trees here, that the views are expansive, allowing you to orient yourself off of faraway cliffs. Fishtrap also provides a perfect opportunity to test compass skills, since there is little to stop you from beelining straight to the next control.
Read more on the map page
SAFETY & ETIQUETTE
Return to the Finish
All participants MUST return to the finish and download their e-punch or turn in their punch card.
Even if you have not finished your course, you must still return to the the finish and confirm with event staff that you have returned safely.
Out of Bounds
Some areas may be marked out of bounds. It is imperative to respect these boundaries to maintain our relationships with land managers. Participants MUST NOT go out of bounds. Any participant caught going out of bounds will be disqualified.
Course Closure
All participants MUST return to the finish by course closure time. If a participant does not return by course closure, event volunteers will begin coordinating a search party.
If you need a long time on the course, start as early in the start window as possible, wear a watch, and be prepared to cut your course short to make it back by the course closure time.
Whistle
All participants MUST carry a whistle on the course. Complimentary whistles are available at the start tent (please only take one).
If you are injured on the course and need assistance, blow three long blasts to call for help.
If you hear a call for help, abandon your course to find the person in distress.
Voices
Part of the fun and fairness of orienteering is navigating your own course, so please be polite when you find a checkpoint and don't holler that you've found it.